If you're looking for an affordable yet versatile instrument, you can't go wrong with a high-quality digital piano such as the Kawai CA99. As the flagship model of its Concert Artist series, Kawai invested a lot of time and energy into making this digital instrument look, feel, and sound like a traditional acoustic piano.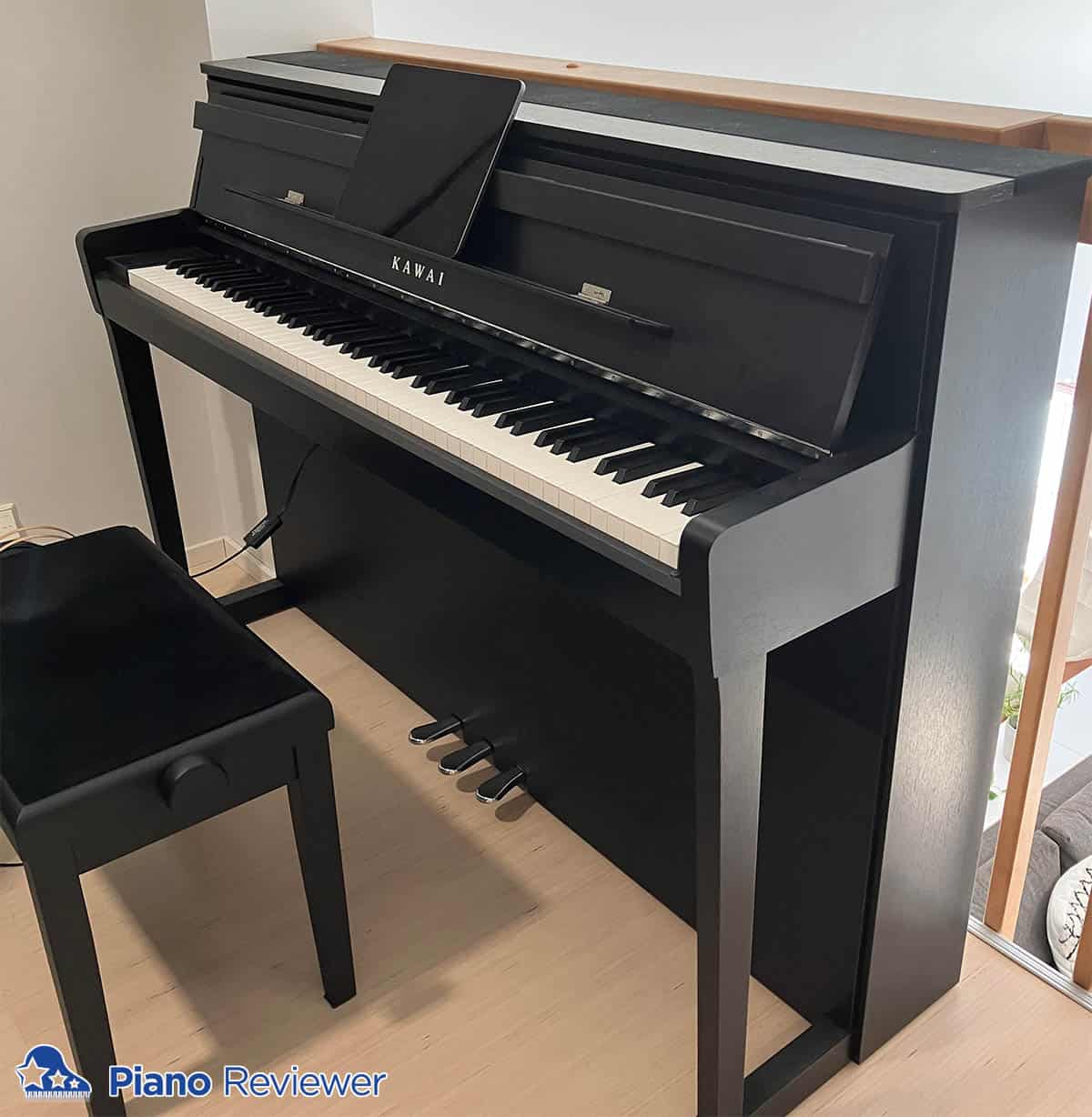 The Kawai CA99 is one of the most advanced digital pianos on the market. Unlike a standard keyboard, its SK-EX sound engine is constructed around a solid spruce soundboard with 100% wooden keys. This attention to detail and quality materials helps to recreate the rich tones of an upright piano without the $6,000 price tag.
In this review, we'll explore everything you need to know about the Kawai CA99 digital piano. We'll take a look at the outer appearance of the instrument, the materials used to create it, its inner sound engine, and the quality of the tone it can produce. We'll also quickly discuss some customizations you can order and break down the pros and cons of this instrument.
The Kawai CA99 Digital Piano at First Glance
From a purely aesthetic standpoint, it's clear that Kawai spared no expense when they set out to build the CA99. It's both modern and sleek yet retains the classic appeal of an upright piano that purists have long fought to preserve. The body and lid are both constructed from high-quality wood, which pairs nicely with the 100% wooden keys designed to mimic the feel of real ivory.
Depending on your preference, the Kawai CA99 is available in Satin Black and Satin White, Premium Rosewood, and Ebony Polish finishes. In all honesty, though, the design so closely mimics a traditional acoustic piano that most people won't realize the piano is digital until they sit down to play.
Size and Dimensions
Width – 57 in (144.5 cm)
Depth – 18.5 in (47 cm)
Height 39.66 in (101 cm)
It's always wise to check that a piano will fit your home before purchasing it. Luckily, the Kawai CA99 is accommodating of most spaces. Despite its wooden body and upright design, the Kawai CA99 is a compact instrument measuring just 18.5 in from front to back. Compared to the average 24-inch-depth of an acoustic piano, this is well within the limits of most people's living rooms.
From side to side, the piano measures just 57 inches, meaning it should fit against any household wall with room for bookshelves on either side. And, at 39.66 inches in height, it's accessible for pianists of all ages.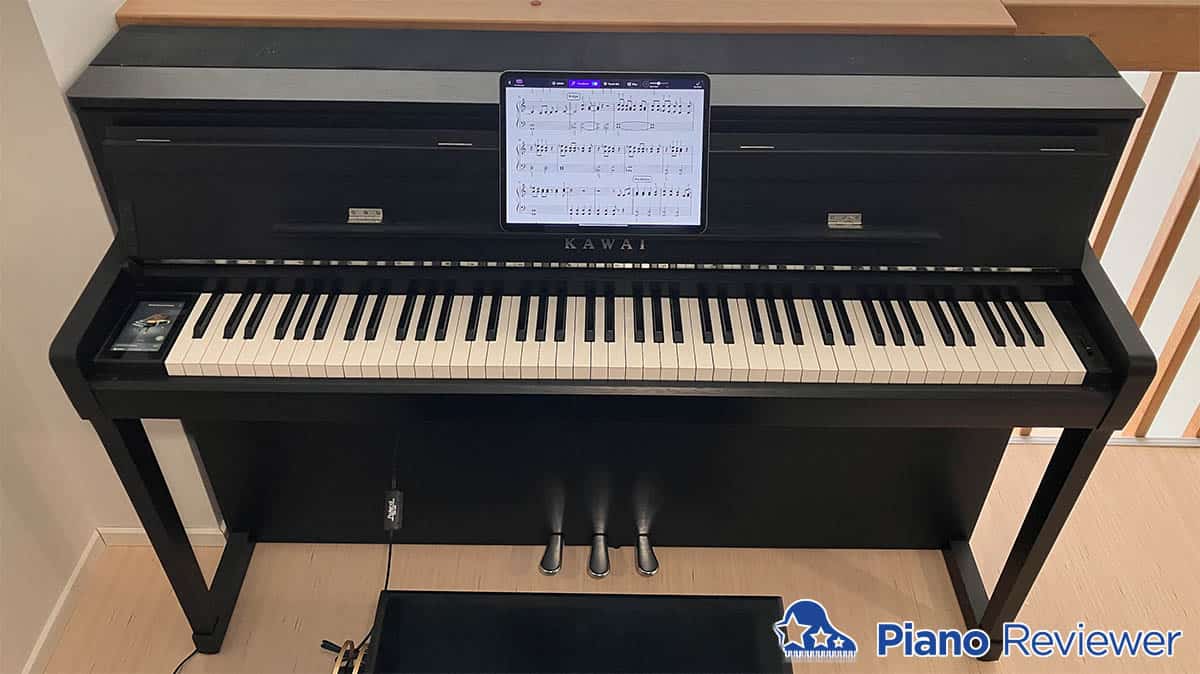 Tone and the Quality of its Sound Production
For many years, pianists have fought back and forth about which is better—acoustic or digital pianos. On one side, progressive musicians have argued for the versatility of the digital keyboard, while purists have sided with the rich quality of sound produced by concert pianos. Today, the argument may be completely moot.
With advancements in sound engine technology, digital pianos are now able to produce a quality of sound that's as good as if not better than traditional upright pianos, and the CA99 embodies this truth. Thanks to powerful sampling tools, Kawai has been able to recreate the majesty of Japan's premier grand piano—the Shigeru Kawai SK-EX.
Whereas most other digital pianos have a limited range of sound, Kawai's SK-EX Rendering system captures a full variety of tones from multiple areas of the Shigeru Kawai grand piano. This helps to produce a more accurate range of tones that closely mimics the sound quality of a concert piano. These samples are then enriched by algorithms that mimic the effect of dampers, strings, and other acoustic parts.
Along with its classical stylings, pianists can also tap into 10 different tones, including Jazz, Boogie, Romantic, Honky-Tonk, and more. Few digital pianos can achieve this range of quality sound across multiple sound characters, placing the Kawai CA99 in a league of its own.
The Playing Experience
Kawai's investment into professional sound production would have been a waste without pairing it with a realistic playing experience. To that end, they've done everything possible to make their Grand Feel III keyboard feel as close to acoustic as possible. This includes:
Ivory; Ebony Touch Keys – These uniquely textured materials are designed to closely mimic the physical sensation and touch response of real ivory and ebony. Musicians can play without losing grip to natural oils or perspiration, creating an instrument that feels as luxurious as an old-fashioned Steinway.
Pivoting Keys – Unlike a standard keyboard, each of the Kawai CA99's 88 keys is constructed to smoothly pivot around a balance pin to recreate the natural feel of an acoustic grand piano.
Graded Counterweights – As the keys are depressed, their backends rise to activate graded counterweights. The weights then drop a hammer onto an inner pressure switch to produce sound. This motion exactly mimics the workings of an acoustic instrument but with digital renderings rather than wires. The amount of force applied to the counterweight is also translated into the switch to affect volume.
Triple sensors – Whereas most digital pianos rely on two sensors, the Kawai CA99 uses three to produce a highly responsive and accurate sound production. As musicians play repeated notes, they become layered to produce a fuller sound that replicates the responsiveness of a concert piano.
By combining aspects of a traditional upright piano with the versatility of a digital piano, Kawai has effectively found the balance between both approaches. The CA99 pairs the beauty and complexity of an acoustic instrument's playing experience with the reliability and affordability of a digital format.
Digital Features Built into the Kawai CA99
While some digital pianos rely on an external sound module to produce sound, the CA99 has everything you'd need built into the instrument itself. This includes a 20-watt stereo amplifier and two 4.75″ full-range speakers. The sound produced by these speakers is surprisingly rich and full for such a small system.
If you're looking for a little more power, the CA99 also features two headphone jacks for private practice or you can record audio using its built-in USB recording system. The CA99 also features two 1/4″ TRS balanced outs for connecting to an external sound system.
Additional digital features include a Bluetooth MIDI connection, MIDI In/Out/Thru ports and a Damper pedal input. The Bluetooth MIDI connection is perfect for connecting the CA99 to a computer or external speaker system, although you probably won't need it. As for the Damper pedal input, it's a must-have for those who want to recreate the feel of playing an acoustic piano.
The CA99 can also connect to Kawai's own PianoRemote app, which allows users to customize the feel and sound of the instrument. We recommend browsing the user's manual to get a better idea of the full range of customizations, as they are quite extensive and can affect the quality of your piano's sound.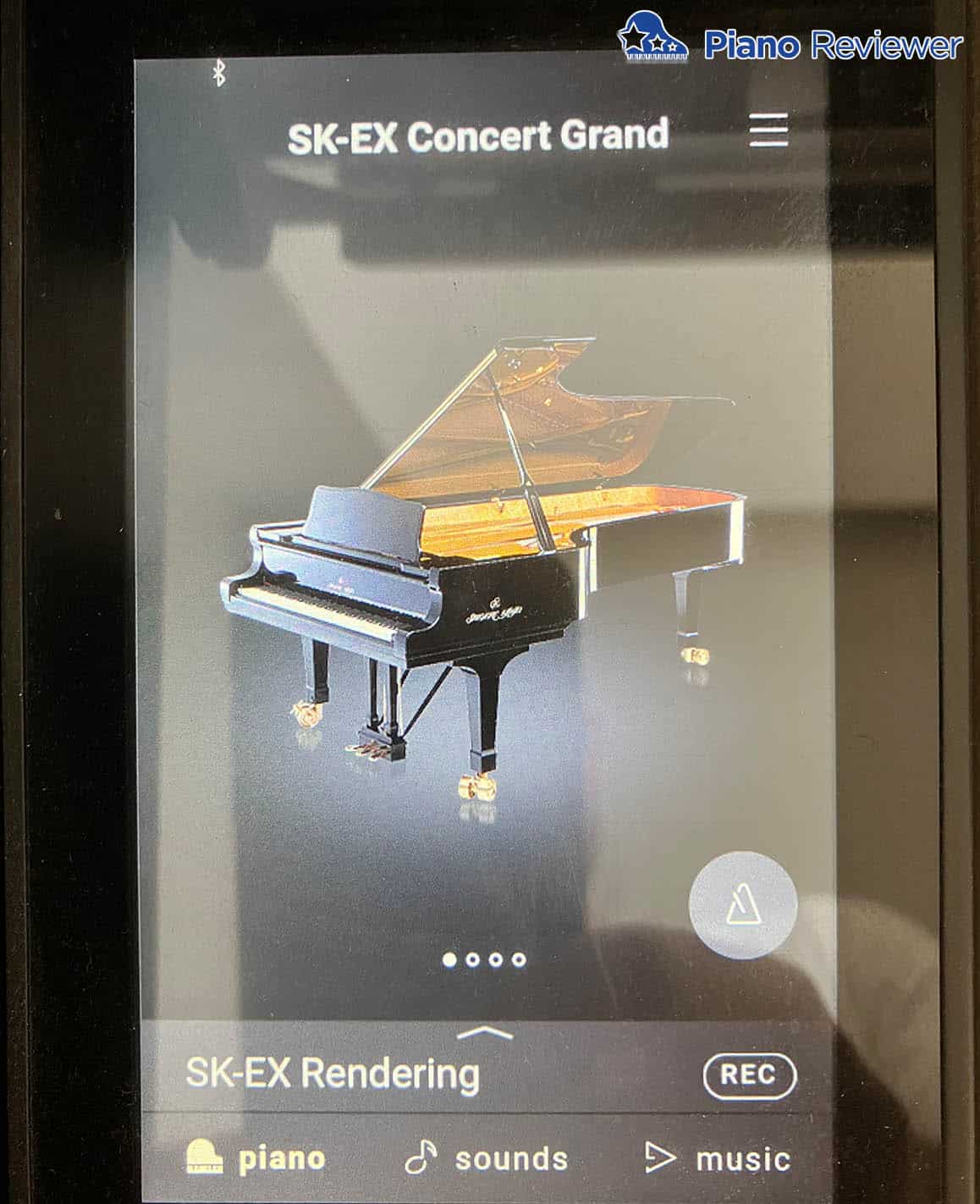 Preloads on the Kawai CA99
While some digital pianos come with a handful of pre-installed sounds, the CA99 takes things a step further by coming with Kawai's own Concert Artist Library. This library contains over 400 different instrument sounds, including a wide variety of acoustic and electric pianos, strings, organs, and more.
The Concert Artist Library also includes over 200 pieces of music that can be accessed through the "Composer" control. Composers can be searched by name or, if you know the name of a piece, you can search for it through Kawai's database. Along with this function, you'll also gain access to around 20 complete learner's books.
The Kawai CA99 is also one of the few digital pianos that come with an integrated lesson system. This system includes 30 different songs that can be played at three different speeds. As the song plays, the CA99's LED display highlights which keys need to be pressed. This is an invaluable tool for those who are just starting to learn the instrument.
Pros and Cons of the Kawai CA99
To round things out, we wanted to present a rundown of all the pros and cons of the Kawai CA99. Although it is an amazing instrument and has received the Product Excellence Award, nothing is perfect and we would be remiss to not share some of its downsides.
Pros:
Incredible sound design that closely resembles the tone of a concert grand piano
Lifelike playing experience and touch response
Aesthetic beautiful design
Compact size fits most homes
Ideal for both beginner and longtime players
Complete with a wide range of preloaded pieces
Cons:
Compared to other digital pianos, the Kawai CA99 is rather expensive but still more affordable than a traditional upright piano
The touchscreen display can be difficult to use and prone to glitching
The Bottom Line
The Kawai CA99 is one of the best digital pianos on the market. It's versatile, sounds great, and is built to last a lifetime. Although it is slightly more expensive than other digital pianos, if you have the budget for it, we highly recommend adding the Kawai CA99 to your home.