Pianos are one of the most elegant musical instruments out there. They sound really sophisticated and they look glorious. Having a piano in your home can instantly make it look much more classy.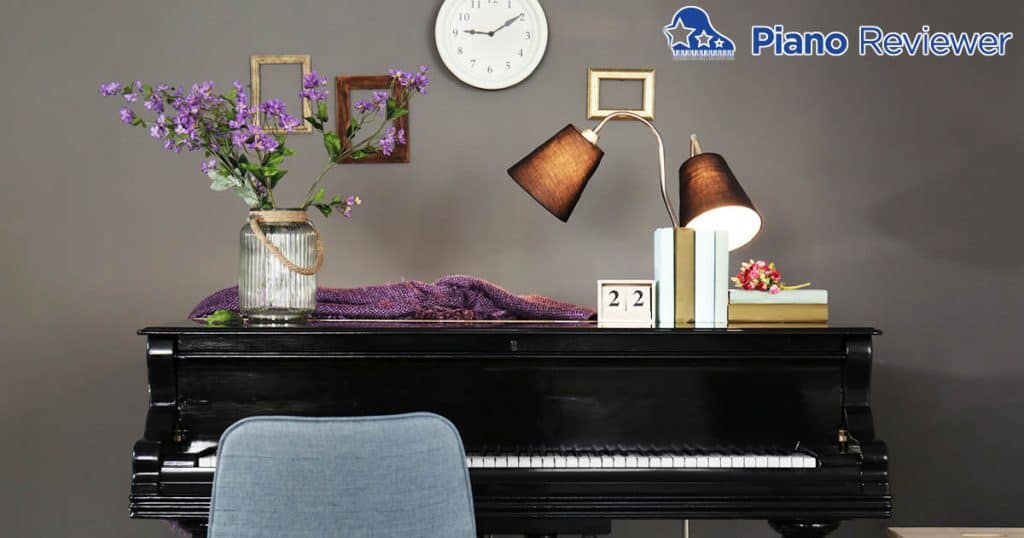 Knowing how to decorate the top of your piano and the space surrounding it can be difficult. To help make this space as aesthetically pleasing as possible, we have created a set of instructions for decorating your piano top.
Top Tips for Decorating Your Piano Top
If you are looking to glamorize your piano top, here are some tips that you should follow:
1. Be Consistent With Your Theme
One of the most important tips to remember when decorating your piano is to maintain an overall theme. Otherwise, your piano top will look messy and mismatched. Themes allow the decorator to inject a little personality and individuality into their home.
If you are looking for some inspiration as to what theme to use for your piano, check the recommendations featured below. It is worth thinking about this for some time. This will enable you to find a theme that suits you, your piano, and your home.
2. Choose Complementary Colors
Using a consistent color scheme can look cohesive and pleasing. Because of this, you should attempt to stick to a color scheme when you are adorning your piano. Colors that work well together will allow you to elevate your area. Here is a list of some stunning color combinations:
Teal and gray
Navy and gold
Red and blue
Yellow and gray
Gold and black
Yellow and green
3. Less Is More
Having an overly busy piano top will not be aesthetically appealing. Having too many items on top of your piano can take away from its grandeur.

As a result, it is recommended that you take a somewhat minimalist approach. Limiting yourself to roughly 4 items will stop this area from seeming overcrowded. Of course, if you have a particularly large piano top, you may want to use slightly more items.
4. Create An Atmosphere
Whenever you are decorating your home, it is crucial to think about the feeling this area will give off. This is known as the atmosphere.

This atmosphere will also be crucial when it comes to ornamenting your piano. Many people will want a space that is inviting, thus encouraging them to play piano more often. If this is the vibe you want to create, use soft materials and plenty of light.
Theme Ideas
As stated earlier, it is essential to consider the theme of your piano decorations. For inspiration, we have selected some of the best ideas when it comes to themes: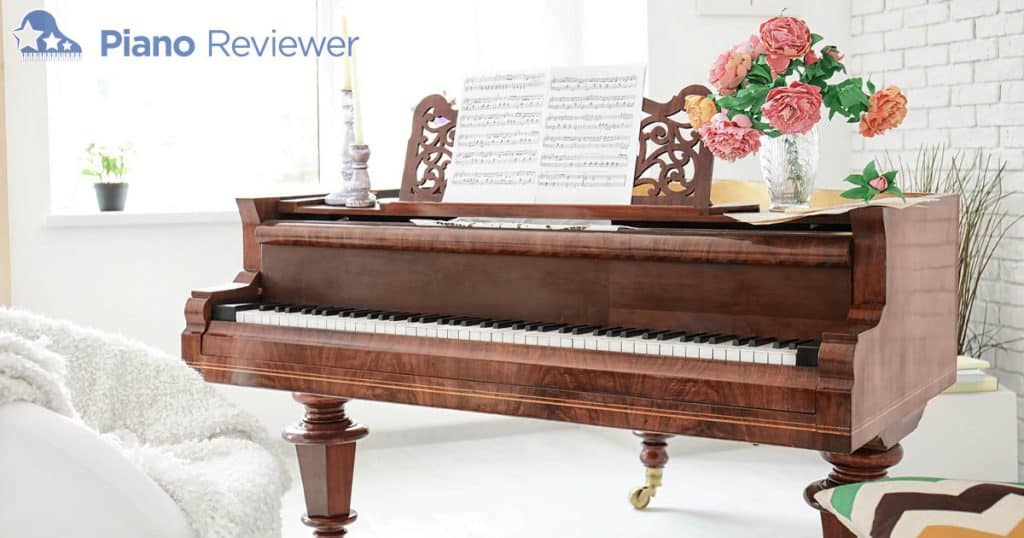 Musical – a musical theme will be well-suited to avid pianists. To decorate your room with a musical theme, you can put your favorite records on top of your piano. You can also put headphones or any other instruments you play around your piano. Furthermore, you can decorate your piano with memorabilia from your favorite musical artist or band. Having plenty of sheet music will also help infuse this vibe.
Gothic – if you love period decor, a gothic theme may be the best way to decorate your piano. If this is the look you want to achieve, you will need to use dark colors, such as black. Dark reds and purples will also look very gothic. Instead of using lights, you may want to put candles atop your piano. If you are going for a gothic vibe, these candles should be kept to a minimum. Adorn with skulls and vintage ornaments to really achieve this atmosphere.
Family – creating a space that reflects your family life can be super endearing. It can also make this area feel more personalized. To achieve this look, put plenty of family photos and relics on the top of the piano. If you have a young family, you may want to use bright colors to better represent and appeal to your family.
Natural – the greens of plants match wooden pianos really well. They will look particularly good with black or brown pianos. A number of plants will look great atop your piano, though succulents will require little maintenance. If you want to inject some more color, you can match these plants with different pots. To continue the natural theme, you can add fake flowers too.
Seaside – many pianists find the hobby to be relaxing. If you want to emphasize this atmosphere, you can decorate your piano top with a seaside theme. To do this, add seashells or nautical-themed objects, such as anchors, seahorses, or lighthouses, to the top of your piano.
Decoration Items
Here is a list of some of the most common items to decorate your piano. Though you should not be afraid to divert from this list, it will nonetheless be a good starting point for your piano decorations:
Pictures and photo frames
Plants
Candles and Candle Holders
Lights (e.g. Fairy Lights or Lamps
Mirrors
Artwork
Personal Touches
Frequently Asked Questions
What Should You Display On Top Of Your Piano?

Honestly, this is a personal choice. You can pretty much put whatever you want on top of your piano. If you are looking for some items that are commonly used to decorate the top of a piano, check out the section above.
In truth, you can be as creative as you want when it comes to decorating your piano.
What Room Should You Put a Piano In?

The answer to this question will depend on a few factors, such as the layout of your house and the size of your piano. Generally, you should avoid putting your piano in the kitchen. The steam from this room could negatively affect your piano. You should also avoid putting it near a radiator or a window.
Pianos are best placed next to inner walls. The best rooms to put them in are generally dining rooms, though this can vary depending on your house.
Should A Piano Be On Top Of A Rug?

Yes, rugs can be placed underneath pianos. This can absorb some of the sounds and will cause the floor underneath to not be damaged. This can also look amazing from an aesthetic standpoint.
Should I Put My Piano In Front Of A Window?

As previously mentioned, you should not put your piano in front of a window. This will expose it to sunlight. The changes in temperature that the proximity to a window can be harmful to your piano and so should be avoided.
Conclusion
Creating a beautiful space in which you can play the piano will enhance your musical experience. To do this, follow our instructions above. Doing so will allow you to decorate your piano in a sophisticated yet personalized manner.